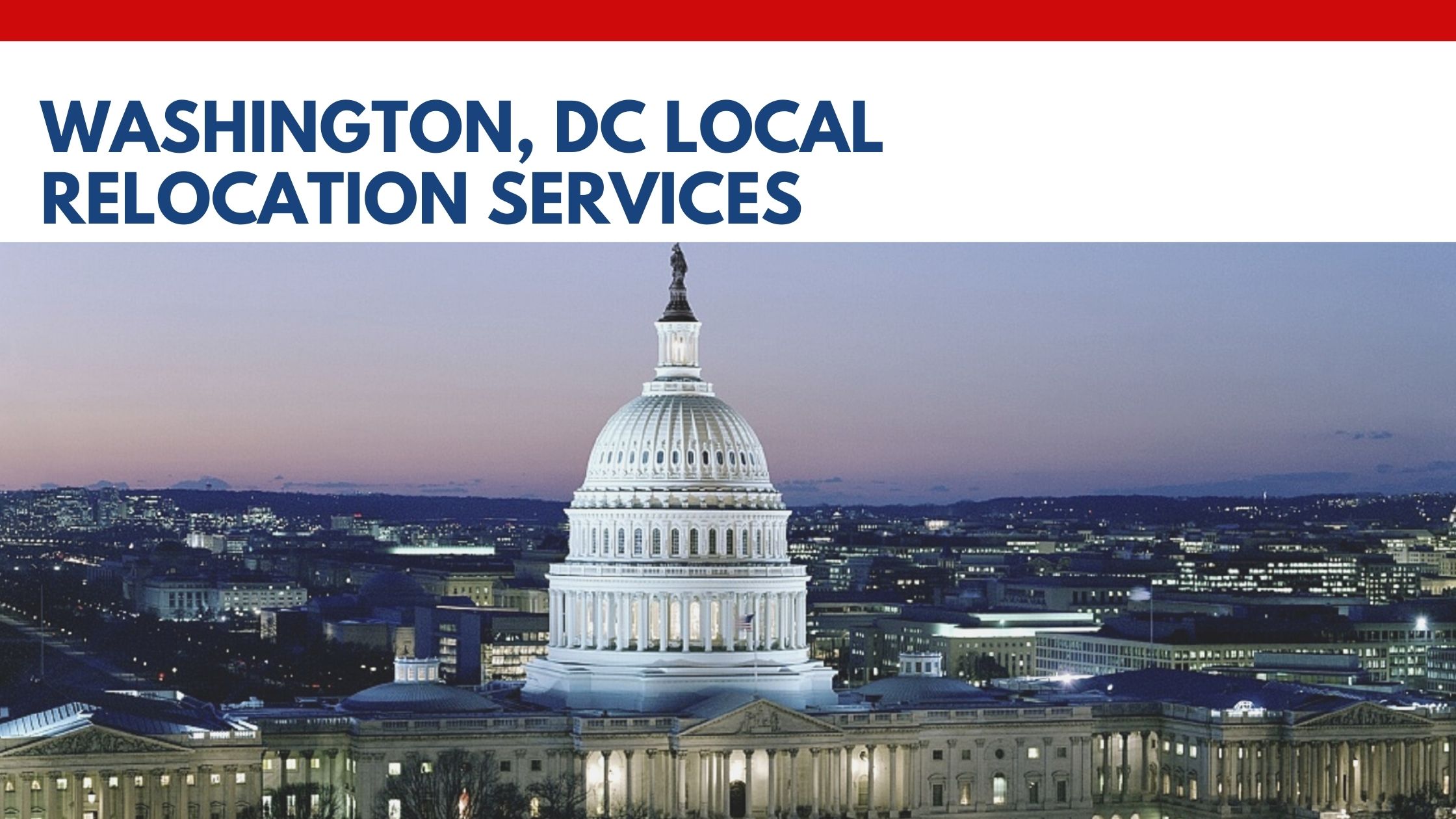 When moving in Washington, DC, Family Movers Express isn't concerned about the side of the aisle that you currently sit on, only that your satisfied with the job we did when moving you to your new home.  We understand how exhausting and frustrating moving in the nation's capital can be, especially if you don't have the professional help provided by our Washington, DC local movers.  All the logistics, planning, and tedious preparation can create an undo amount of aggravation and stress.  Why not let our moving specialists shoulder your burden so you can focus on other important things? As we have helped innumerable people
What type of moving company should you choose?
The best moving company for local residential moves in Washington, DC is a full-service moving company.  Although you may think you can handle this move on your own, you'd be surprised at how quickly a simple move can get out of hand.  When you hire a full-service moving company like Family Movers Express, you won't have all the stress and frustrating that typically characterizes a DIY move.  In fact, we handle everything associated with your move and alleviate your stress so you can focus on other more important things related to it.
What are the benefits of hiring a full-service moving company?
When you consider the physical strain and stress of a DIY move as well as how time-consuming it can be, it just makes more sense to hire our full-service Washington, DC local movers.  We'll see to it that your move proceeds without any delays or unpleasant surprises and ensure a smooth transition into your new home.  Here are several benefits you'll enjoy when hiring Family Movers Express to handle all the details of your move:
WE can actually save you time and money in the long run with a quicker, more efficient moving process
WE do all the heavy lifting, thereby eliminating your risk of injury
WE have over 15 years of experience helping people move in Washington, DC
WE have storage options ready in case your new home isn't quite ready for you
WE provide the peace of mind that comes from knowing your furniture and belongings will be protected while in transit
When you take all of these benefits into consideration, it just makes more sense to hire full-service Washington, DC local movers rather than trying to do everything yourself. Not only do we have the experience of helping businesses and residents make the move, that is our sole job while you have other aspects of your life to consider. Thus, having a  team of professionals to plan and implement the move will make your life stress-free.
What moving services do we provide?
Unlike a regular or standard moving company that only provides the basic services, the Family Movers Express team provides a comprehensive range of relocation services that will make your move a lot easier.  While other movers will load their truck, transport your belongings, unload the truck at your new location and be on their way, we provide a much broader range of services such as:
supplying all moving and packing materials
assembling and disassembling all large furniture pieces
assisting with the packing and wrapping of your belongings
loading our truck, transporting your items to your new location, unloading your items, and helping you get everything into your new home
helping you unpack and unwrap your items
reassembling all disassembled furniture items
disposing of all moving and packing debris
Moving can be an overwhelming and stressful experience, but it doesn't have to be – not when you hire the Washington, DC local movers at Family Movers Express to handle everything for you. We'll take care of all aspects of your relocation process while ensuring all safety standards are maintained.
How much will a local move cost you in Washington, DC?
Even if you've lived in the Washington, DC area for several years, a local DIY move can still be a challenging endeavor if you don't have the experience and skills required to ensure that everything proceeds as planned.  We've put together the chart below to help you with budgeting for your move.  Please be aware that these costs are based on national averages and that yours may vary:
| | |
| --- | --- |
| Size of Home | Average Cost to Move |
| Studio | $400 |
| Small 1 bedroom | $450 |
| Large 1 bedroom | $550 |
| 2 bedrooms | $700 |
| 3 bedrooms | $1,100 |
| 4+ bedrooms | $1,400 |
In addition to the above, we also offer storage services in case your home isn't quite ready for you to move into.  Why risk the emotional and physical strain of a DIY move when you can hire full-service Washington, DC local movers to shoulder the burden for you.  Contact Family Movers Express today at (888) 275-8519 or visit our website.